"Hands On" Training Certification
These hands on certification courses are designed to provide lectures, videos and examinations online, with access through our eLearning portal 24/7. In addition, "hands on" training is provided by an efDA Training, LLC approved faculty at the Staurt location.
Great course options to provide credentialing needs for Florida.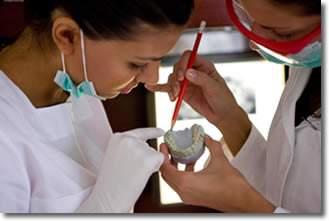 Hands On Training Choices
One Day Course Includes:
Radiography; (5 areas) AND
Fabrication of Provisional Restorations; (5 skills)
Fabrication of Provisional Restorations; Preliminary Impressions; Placement and Removal of Gingival Retraction Cord; Cement Temporary Restoration; and Removal of Excess Cement
One Day Course Includes:
Restorative and Preventive Expanded Functions; (12 skills)
Preliminary Charting of Existing Restorations and Missing Teeth; A Visual Assessment of Existing Restorations; Application of a Topical Anesthetic; Placement and Removal of Dental Dam; Placement and Removal of Matrices and Intracoronal Restorations; Polishing Coronal Surfaces of the Teeth; Application of a Fluoride Varnish; Application of Sealants; Suture Removal; Treatment of Post Operative Osteitis; and Placement and Removal of Periodontal and Surgical Dressings
Nitrous Oxide Monitoring
Orthodontic Expanded Functions (6 skills)
Other Choices
We will customize a course to the dental assistant's individual credentialing needs within 24 to 48 hours.
CONTACT US
Other Topics Include
Dental Anatomy;
Infection Control, Disinfection and Sterilization; and
Instruction in the Dental Practice Act and Administrative Code as It Relates to Dental Auxiliaries
Contact Us for Training Date(s) Options and Course(s) Registration Information