Get Hands-on Dental Training
at Our Stuart, FL Dental Practice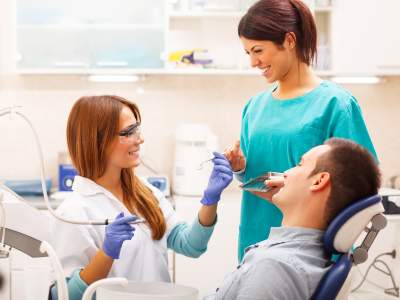 WE OFFER THE FOLLOWING COURSES:
Radiology Certification
Preventative/Restorative Certification
Fabrication of Provisional Restorations & Related Topics Certification
N20 Monitoring Certification
Orthodontic Certification
ARE YOU AN EMPLOYED DENTAL ASSISTANT?
Ask your employer about our Train In Your Dental Practice program.
Contact Karen Allen for the next training date.
FREQUENTLY ASKED QUESTIONS
Can EFDA Training credential a dental assistant in any or all expanded functions for the State of Florida?
YES
What are Expanded Functions?
Expanded functions are procedures that can be performed on a dental patient.
Is a dental assistant required to have Expanded Function certification, in the State of Florida, in order to perform procedures on a dental patient?
YES
Is Radiography considered an Expanded Function?
YES
I have worked for many years as a dental assistant in another state. Will this on-the-job training fulfill the Florida requirements for expanded duties?
No. In order to perform expanded duties in Florida you must have the training required by rule 64B5-16.005, Florida Administrative Code.
EFDA Training is approved to credential dental assistants in any or all expanded functions.
I have a certification from the Dental Assisting National Board (DANB). Is this certification valid in Florida?
No. Florida does not recognize the DANB credential.
Can I transfer my dental assisting license from another state to Florida?
No. Florida does not offer reciprocity and does not license dental assistants; therefore, you cannot transfer a dental assistant license from another state.
I am a foreign trained dentist. What must I do now to practice in Florida?
In order to perform expanded duties in Florida you must have the training required by rule 64B5-16.005, Florida Administrative Code.
EFDA Training is approved to credential dental assistants in any or all expanded functions under this rule.
Although I have worked as a dental assistant, I am new to the field. Do you offer a Dental Assistant Program?
YES. The program includes five (5) training dates (on Fridays or Saturdays). The lectures, videos, and exams are available through the eLearning portal of the website. Programs are scheduled every other month. The participant will be credentialed in every expanded function for the State of Florida.
Content includes:
Disinfection and Sterilization; Computer Usage; Transfer of Instruments and Mixing Materials; Florida Law
General and Specialty Dental Procedures
Radiography
Fabrication of Provisional Restorations
(5 skills)
Preventive and Restorative Expanded Functions (12 skills)Nitrous Oxide Monitoring
Orthodontic Expanded Functions (6 skills)
I graduated from a dental assisting program in another state that was accredited by the ADA's Commission on Accreditation. What must I do now to practice in Florida?
Graduates of a dental assisting program accredited by the American Dental Association's Commission on Dental Accreditation for the purpose of providing expanded duty training are approved to perform expanded duties in which he/she was trained. The certificate of completion, listing each skill certified, must be posted in a conspicuous place in the dental office. The dental assistant can only perform those procedures legal in the State of Florida.
Can I receive EFDA credentials through my dental practice?
YES. Have your dentist go to "I am a Dentist/Office Manager" for more information.
If I graduated from a Florida Board of Dentistry approved dental assisting program is it necessary to obtain the dental radiographer certification?
NO, you are not required to obtain the dental radiographer certification if you completed a board approved program as part of your expanded duty training. Please see Rule 64B5-9.011, Florida Administrative Code.
What is the procedure to be certified as a dental radiographer through the Department of Health, Board of Dentistry?
You may obtain dental radiographer certification through the Department of Health by filling out their application upon completion of three months of on-the-job training through assisting in the positioning and exposing of dental radiographic film under the direct supervision of a Florida licensed dentist and documentation of successful completion of a Board approved course which meets the requirements of Rule 64B5-9.011, Florida Administrative Code. The fee for the certification is $35.00, payable to the Department of Health.
Do I need a high school diploma/GED to become credentialed as an Expanded Function Dental Assistant?
NO
What is the age requirement to become credentialed in Radiography?
Florida law requires the dental assistant to be eighteen (18) years of age to take radiographs on a dental patient.
I am a practicing Dental Assistant in another State. Can I be credentialed in Expanded Functions through efDA Training?
Your dentist must hold a license for the State of Florida. We would suggest contacting the individual State Board of Dentistry for requirements for credentials for the individual state.
Do I need a high school diploma/GED to become credentialed as an Expanded Function Dental Assistant?
NO